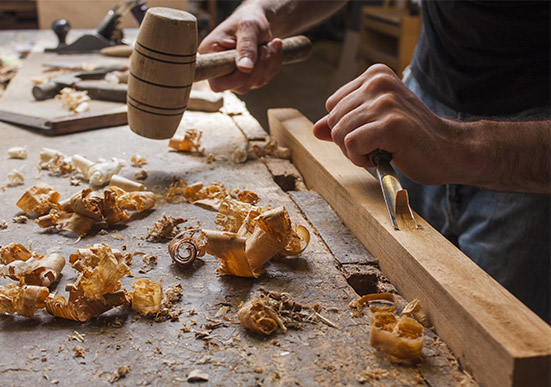 The Story of the Cabinet Maker
It is always so satisfying to encounter true artisans, who want to ride the crest of innovation. They get a sparkle in their eyes when presented with a challenging design concept. These shops often become our subcontractors.
A very natural step with an artisan is to sit down and figure out all of the construction and installation details and how their work will integrate with other craftsmen's work so that we end up with the best product.
A few years ago, I visited a cabinetmaker in South Carolina, who was referred to us. When I entered his shop, I found it stocked with an ordinary set of tools – no sign of the sophisticated, precision Italian machines that most modern shops use in the Bay Area.
At the onset, there was immediate mutual distrust. He thought of me as a college educated paper contractor. I thought of him as a third rate cabinetmaker. He didn't believe in taking pictures of his work, so there wasn't a portfolio to see.
Prior to my arrival, I had sent him conceptual plans for sets of ultra modern cabinets with demanding features. After I inspected his shop, the interview continued with discussions about the construction details of the cabinets, the characteristics of the material that the cabinets were to be made of, the inherent problems with different techniques of construction, the selection of hardware manufacturers, finishing technology that would not discolor over time, etc.
Within a few minutes, I saw a sparkle in his eyes. We spent the next two hours building the cabinets in our minds and drawing construction details on a pad of paper. This Southern gentleman didn't need sophisticated machines to build flawless cabinets.
Today, we continue supporting his operations with regular orders, as we do with our local artisans.