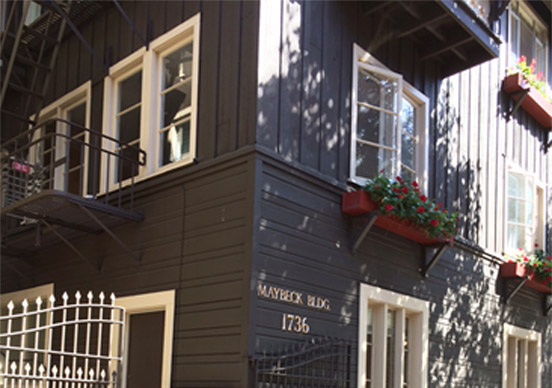 Trush Construction was selected to perform restoration on this San Francisco Landmark Maybeck Building in 2015.
Millennia ago, when humans built walls around their neighborhood in nature and called it a city, architecture became a vehicle of reassurance and an expression of the social mores.
Today's architects stand on the shoulders of men and women who have, over time, established the principles cardinal to the development of mature and pleasing designs. Lines, movement, form, balance, texture, and hues are all well studied elements in the development of design, leading to multitudes of architectural styles.
As every generation re-invents itself, naturally the artists of the time portray a new vision. By some accounts, Beethoven was seen as the rock star of his time. Architects also challenge the orthodoxy of the past, and their designs reflect emerging values.
Early in the 20th Century in the San Francisco Bay Area, avant-garde architects of the time – Bernard Maybeck, Julia Morgan, and others – began departing from the classic Victorian, Edwardian and Queen Anne styles. They returned to the Spanish colonial style or began experimenting with new concepts, such as the Bungalow style.
Inspired by the English Arts and Crafts Movement, which sought to integrate crafts in harmony with nature, the Bungalow or Craftsman style evolved. These mostly single story homes with low horizontal lines featured verandahs and details that became a part of the surrounding nature. Bernard Maybeck and Julia Morgan were prime contributors to the Craftsman style, and their work extended to nonresidential buildings as well.
The hallmark of this style, wide projecting eves and overhanging gables with exposed rafters, was designed with exquisite appeal. Craftsman homes were much simpler to build and therefore cost effective for the emerging middle class.
Another example of departure from the past was the work of Frank Lloyd Wright in Chicago. His efforts encompassed an evolving set of styles with the objective of redesigning the interior spaces for a more open lifestyle and better integration with nature. His 1937 Fallingwater House in Pennsylvania and 1959 Guggenheim Museum in New York are examples of this effort.
Following in their footsteps, today's evangelist architects ride the frontier of our culture, developing designs reflective of today's vision and technology.
On an international scale, I.M. Pei, Frank Gehry, Renzo Piano, and John Pawson are examples of contemporary designers who, with the support of advanced engineering, bring to life visions that define the achievements of human kind in the early part of the 21st century.
On the local level, an architect's creativity is restrained only by the gravity of issues, such as the resident's needs, budget, building codes and municipal oversight. There are multitudes of highly talented architects in the San Francisco Bay Area. At Trush Construction, we are excited that we are joining with these designers and our creative clients in building the next generation of California homes.